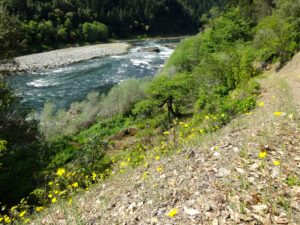 Imagine the perfect springtime hike, great views and camps, early season flower fields and miles of rolling, easy-going trail under your feet. The Rogue River's designated Wild and Scenic section lives up to its name with 40.6 miles of southern Oregon splendor. The main focus, of course, is the river and it's easy to see why. Changing shape and color as it flows along, sometimes it's quiet and docile with still pools and other times it rages with foaming white rapids.
There are numerous campsites along the way; some are near the river while others are nestled next to small streams that cascade down the steep hills to join the Rogue. But the abundant waterfalls are just one highlight, another is the high lush grass on the slopes by author Zane Grey's cabin, only one of the many historic cabins and structures found along this path. We did have a bear camp out across the river from us, but he or she never came close enough to feel dangerous, and my group just took a few pictures and left the bear to itself.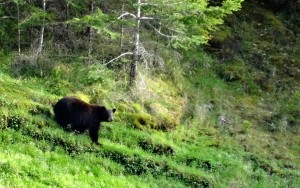 Mule Canyon is truly one of the finest wonders one will find on this epic stretch of trail. There, sporadic flower clusters cling to sheer cliffs as the trail winds high above the river in a slot canyon. The contrast between the beautiful floral color and bleak rock is a startling display that will slow your stroll to a step. If rafting is your thing, you can enjoy the legendary rapids of Blossom Bar,  Coffee Pot or the Picket Fence. If you'd rather just be a spectator, watch the action high up on a perch on the canyon's side.
There are small riverside resorts scattered along the trail, with eclectic grounds, curious cabins and a hot meal or shower. During my trip in April, it was still too early for them to be open, but during the summer I'd imagine that hiking between them would be a great option if you want to travel lightly and sleep in a bed. This section of the trail is a traverse hike (meaning you don't end up where you started) so a shuttle is required, but at $135 it'd be a reasonable cost if split between a group. I recommend that you do this trail in three days, one night at Kelsey Creek (15 miles) and at Brushy Bar (15.5 miles) this will split the trail up nicely.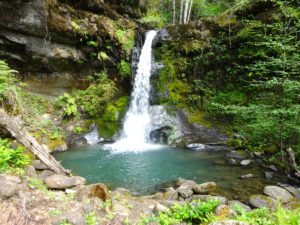 The Rogue River trail is a gorgeous and wild place for a spring trip. I thoroughly enjoyed hiking it and highly recommend it for a classic Oregon experience.